John Wegman opened the Rochester Fruit & Vegetable Company in 1916, marking the beginning of Wegmans Food Markets. Today, we're one of the largest private companies in the U.S. As we grow, we remain committed to quality products, excellent service and putting our people first.
110+

Stores across the Northeast and Mid-Atlantic

53,000

Employees

$11.2B

Annual Sales in 2021
distinctions we're proud of
100 Best Companies to Work For 1998-2023 (#4 in 2023)

#4 Company that Cares2022

#5 for corporate reputation2022
26M

Pounds of food donated in 2022

$5M+

In employee scholarships per year

1K+

Thousands of calls per year from customers who love our stores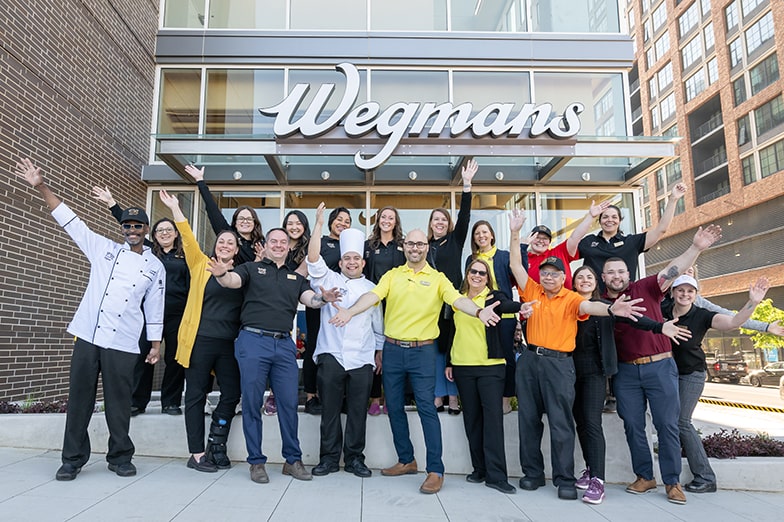 find your store
We serve customers in New York, New Jersey, Massachusetts, Pennsylvania, Delaware, Maryland, Virginia, Washington D.C., and North Carolina.
our history of innovation and service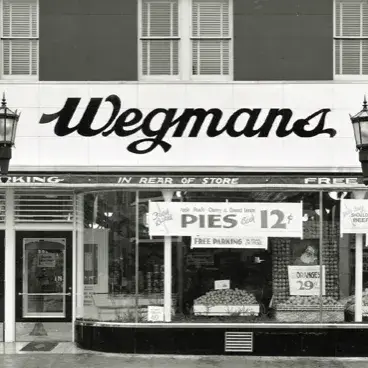 1930s
John and Walter Wegman open a 20,000-square-foot store—gigantic in those times—with a 300-seat cafeteria. Other stores introduce modern features like refrigerated display windows and vaporized water sprays to keep produce fresh. In 1937, Walter's son, Robert, joins the company.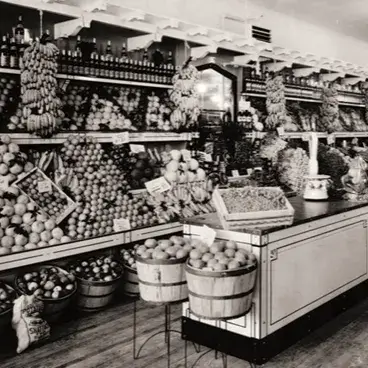 1940s
The first suburban Wegmans opens in Rochester, New York. It features innovations like circular checkout counters and a produce processing center in the basement. During this time, Wegmans stores also convert to a self-service format and offer frozen foods for the first time.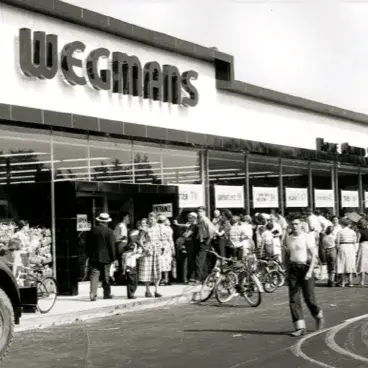 1950s
Robert Wegman becomes president of the company and raises all employee salaries. He believes that if a company wants its employees to care about customers, the company must care about their employees first. Wegmans introduces benefits and profit-sharing for employees.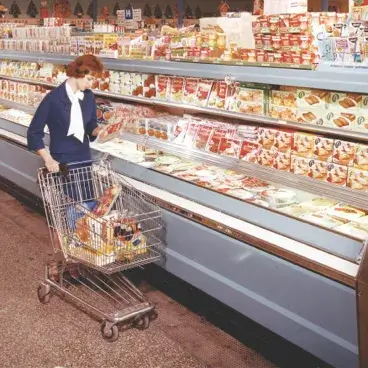 1960s
Wegmans opens its 22nd store. New ultra-modern features are introduced, like a full-service deli and air curtain entrances to keep food fresh while eliminating drafts. In 1969, Robert Wegman becomes chairman of the company.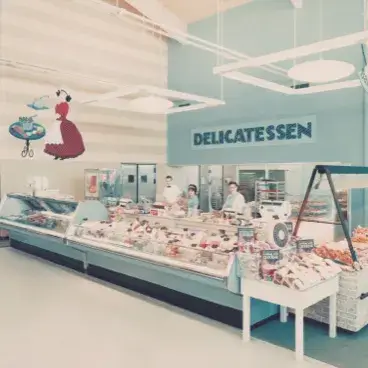 1970s
Wegmans tops $100 million in sales and begins making regular food bank donations. Customers are introduced to Wegmans Brand items, plus new features like a seafood department, copy centers and a pharmacy. Robert Wegman's son, Danny, becomes president of the company.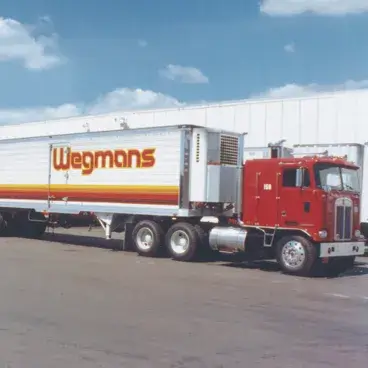 1980s
Wegmans launches their Employee Scholarship Program and partners with United Way and the Rochester City School District. In 1988, Fortune Magazine awards Wegmans best in customer service among national food retailers.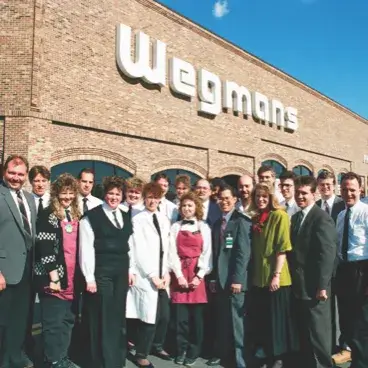 1990s
Wegmans corporate office opens in Rochester, New York. The company also expands outside of New York, opening stores in Erie, Pennsylvania and Princeton, New Jersey. During the 1990s, Wegmans also begins hiring executive chefs to create better ready-to-eat and ready-to-cook foods.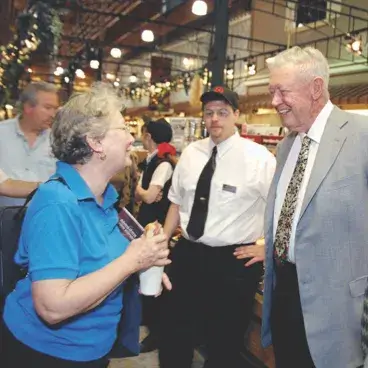 2000s
Wegmans company positioning statement changes to reflect the goal of offering consistent low prices. The first in-store restaurants open. Robert Wegman dies, leaving a legacy of innovation and community care. Before Mr. Wegman's death, he appointed Colleen as president and Danny as CEO.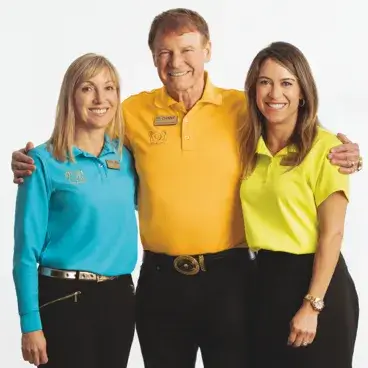 2010s
The Wegmans Mobile App launches. The Wegmans Family Charitable Foundation gives $1 million to a research center at Rochester Institute of Technology to develop sustainable packaging. Danny Wegman becomes chairman and his daughter, Colleen Wegman, is named president and CEO.
more to explore
Cultivating Sustainability at the Wegmans Organic Farm

Developing delicious meals

Celebrating Asian Pacific American Heritage Month

Developing the perfect sauce

Developing the perfect sauce

As we prepare to open our Astor Place location in Manhattan, we've sought to create new partnerships to introduce ourselves to the community.

Jenny D. is an Employee Advocate at Wegmans Retail Service Center in Pottsville

More than 100 employees work in the Wegmans Culinary Innovation Center (CIC) in Rochester, New York, making many of your favorite Wegmans Brand items.

Our newly opened distribution center in Ashland, Virginia has already contributed over $300,000 to the local community

As a single mom of a child with special needs, Christina wasn't sure it was possible to be the mom she needed and wanted to be, and still have a career.

Our caring people are the very heart of Wegmans. We are a team of individuals—chefs, cashiers, innovators, and doers—on a mission to help people live healthier, better lives through exceptional food.

Achieving Zero Waste: Passion, Competition, Teamwork

Developing delicious meals

We are a team of individuals—chefs, cashiers, innovators, and doers—on a mission to help people live healthier, better lives through exceptional food.

The Wegmans Organic Farm is comprised of individuals who are passionate about creating a self-sufficient and sustainable farm.

See what our North Carolina stores have to offer!

Learn more about Part-Time opportunities at Wegmans!

Learn about Pharmacy Technician opportunities at Wegmans!

We are now hiring for Full and Part-Time Jobs in Reston, VA 

We are now hiring for Full and Part-Time Jobs in Yardley, PA

Exemplifying Excellence: Colleen Wegman Named a Glassdoor "Employees' Choice" Top CEO

When you join our knowledgeable, talented team, you'll be a part of turning grocery shopping into a memorable experience—making our store our customers' happy place. Transcript

As part of our culinary team, you'll work alongside excellent, experienced chefs in a supportive environment that invests in your growth and learning.

Our store employees are the very heart of Wegmans.

Looking for a chance at a better life for his family and himself, he applied for a Visa program in 2002 and was one of about 30,000 people worldwide chosen.

When it comes to sustainability, it is the small acts of many that make the biggest impact.

As a company, we have always valued education for its ability to create opportunities.

Three separate entities in the city of Rochester, New York, share a building steeped in history and focused on serving their socio-economically diverse community.

Organization, teamwork, leadership, high standards, and dedication to serving our community are all skills valued by Wegmans.

Learn how our path to a greener fleet is not only good for the environment, but also for our people and our company.

Join Wegmans our new Distribution Center in Ashland, opening Summer 2023!

To celebrate Native American Heritage Month, we asked our employees to share their stories around food, family, and traditions.
get job alerts
Want to be the first to know when a job you are interested in opens up? Join our Talent Community to receive email alerts.