Store Shopper
Wilmington, DE
Schedule

Part time

Availability

Applying to this requisition allows you to be considered for multiple opportunities. Please provide as much availability that works with your schedule. Shifts start as early as 6am

Age Requirement

Must be 18 years or older

Location

Wilmington, DE

Address

371 Buckley Mill Road

Pay

$14 - $14.50 / hour

Job Posting

06/12/2022

Job Posting End

07/11/2022

Job ID

R0129928
Join our team at the new Wilmington, Delaware store, located just outside the City of Wilmington in New Castle County!  Opening Fall 2022!
Why Join the Wegmans team?
Work for a family-owned company that has been on FORTUNE magazine's list of the 100 Best Companies to Work For® list for 25 years in a row
Be part of a fun, flexible, and exciting grand opening team, helping to introduce the first Wegmans store in the state of Delaware!

Start earning and training immediately, gaining the experience you need to be successful in your role, before the store opens. 

Safety of our employees is top of mind and we are committed to keeping you safe and healthy while you help to serve our communities
At Wegmans we are committed to providing our customers with fast, efficient, and convenient options for their grocery shopping.  Wegmans Curbside Pickup is a fast-growing program that is looking for customer focused team members who are passionate about servicing our customers and helping them to live healthier, better lives.  As a Store Shopper, you will be responsible for utilizing the latest technology to engage with customers through an app, shopping their orders and staging them for pickup.  If you are passionate about working in a fast-paced environment and giving customers the freshest and best quality products out there, this could be the role for you!
What will I do?
Be comfortable utilizing technology to communicate with and fulfill customer orders
Accurately and efficiently fulfill customer orders and stage them in fulfillment area
Properly handle product, use necessary equipment and bag items to ensure they reach their destination safely
Accurately and efficiently scan items, make appropriate substitutions as needed and process payments
Help to maintain a clean, organized and well-stocked workspace

May be expected to carry out other customer service duties within the store, as necessary to fit the needs of the business
Required Qualifications:
Customer service experience, preferably in a food service, grocery or retail setting
Ability to use a company-issued device to manage orders and communicate with customers
Verbal and written communication skills
Ability to take direction and work independently
Preferred Qualifications:
At Wegmans, we believe that if we take care of our people, they'll take care of our customers. That's why, as part of the Wegmans family, you'll have a package of benefits that covers your health, well-being, family and future.
Flexibility in scheduling—work-life balance
Employee discounts
Premium pay on Sundays and holidays
Comprehensive benefits*
Quality affordable healthcare coverage
Vision coverage
Dental coverage (Available to Full-time only)
Pre-tax spending accounts
Life insurance
Paid time off
Employee assistance program
Employee wellness programs
401(k) retirement savings plan
Wegmans retirement profit sharing plan
Scholarship Program
*Certain eligibility requirements must be satisfied
For 25 years in a row, our employees have put us on the FORTUNE magazine's list of the 100 Best Companies to Work For®. Discover what it means to work for a family owned, mission-driven, values-based company that believes in caring, respect, empowerment, high standards and making a difference in the community. Because with a family-like atmosphere of shared support, leaders who have your best interest at heart and growth as part of everything we do, Wegmans is the place for you to do what you love—and love what you do.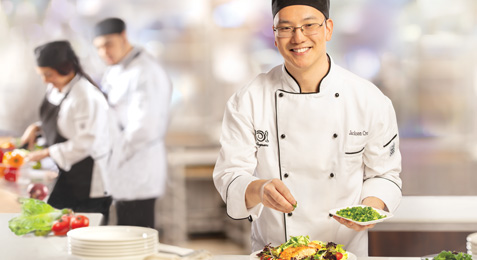 You do not have any recently viewed jobs
You do not have any saved jobs