Warehouse Custodial
Rochester, NY
Schedule: Full time
Availability: Applying to this requisition allows you to be considered for multiple opportunities. Please provide as much availability that works with your schedule.
Age Requirement: Must be 18 years or older
Location: Rochester, NY
Address: 3131 Winton Road
Pay: Starting at $15 / hour!
Job Posting: 11/23/2021
Job Posting End: 12/24/2021
Job ID: R0110943
At our Wegmans stores and facilities, we are committed to providing incredible customer service, and that means starting with the best people behind the scenes. As a Warehouse Custodian, you'll be providing incredible service and supporting our Wegmans warehouse by quickly and efficiently responding to calls regarding spills, breaks, or other accidents, as well as maintaining the general upkeep of the facility. If you prefer to be behind the scenes and use a hands-on approach, this could be the role for you!
What will I do?
Maintain cleanliness and safety in all areas of our warehouse facility, responding to all maintenance calls efficiently and effectively

Promptly respond to all maintenance calls by attending to spills, breaks or other accidents as well as changing light bulbs, unclogging drains, etc.

Identify any potential dangers or hazards and report them to management
Keep an organized, well-stocked and systemized supply room and maintenance station
Learn how to properly handle equipment, use safety logs, and follow sanitation practices, in accordance with food and human safety guidelines
Preferred Qualifications and Certifications
Custodial/Janitorial work experience
Customer service experience, preferably in a retail or grocery setting
At Wegmans, we believe that if we take care of our people, they'll take care of our customers. That's why, as part of the Wegmans family, you'll have a package of benefits that covers your health, well-being, family and future.
Flexibility in scheduling—work-life balance
Employee discounts
Premium pay on Sundays and holidays
Comprehensive benefits*
Quality affordable healthcare coverage
Vision coverage
Dental coverage (Available to Full-time only)
Pre-tax spending accounts
Life insurance
Paid time off
Employee assistance program
Employee wellness programs
401(k) retirement savings plan
Wegmans retirement profit sharing plan
Scholarship Program
*Certain eligibility requirements must be satisfied
For 24 years in a row, our employees have put us on the FORTUNE magazine's list of the 100 Best Companies to Work For®. Discover what it means to work for a family owned, mission-driven, values-based company that believes in caring, respect, empowerment, high standards and making a difference in the community. Because with a family-like atmosphere of shared support, leaders who have your best interest at heart and growth as part of everything we do, Wegmans is the place for you to do what you love—and love what you do.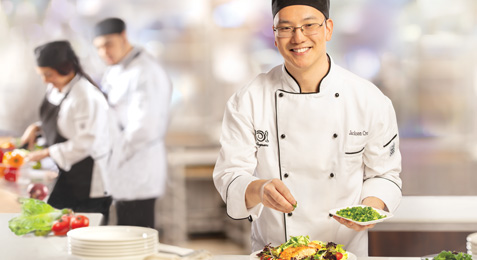 You do not have any recently viewed jobs
You do not have any saved jobs