Senior IT Compliance Auditor
Rochester, NY
Schedule

Full time

Availability

Morning, Afternoon.

Age Requirement

Must be 18 years or older

Location

Rochester, NY

Address

1500 Brooks Ave

Pay

$81830 - $91298.50 / year

Job Posting

04/28/2023

Job Posting End

06/23/2023

Job ID

R0168417
As a Senior Auditor at Wegmans, you will focus on the areas of IT and Compliance, supporting company objectives by advising management on the effectiveness of company systems and controls, and performing regulatory reviews to ensure compliance with applicable laws and regulations. 
What will I do?
Perform technical analysis and testing of operating systems, application systems, security systems and computer operations as well as regulatory compliance reviews to evaluate the efficiency and effectiveness of the internal controls and compliance with applicable laws and regulations.
Perform data analysis and testing of application systems data; including database tables and other flat files associated with the system under review.
Utilize data mining processes and techniques to complete the data analysis of internal (in-house hosted) and external (outsourced) systems.
Perform audit engagements, identify, analyze, evaluate, and record design and operating effectiveness of data controls, consult on design and effectiveness, prepared detailed reports, and communicate recommendations.
Audit various processes for compliance with the Company's procedures and policies; assist management in assessing the risks across functional areas.
Maintain documentation of audit engagement's observations, conclusions, and recommendations; maintain summaries and index with cross-referencing for supervisory review.
Assist with employee training on compliance related topics.
Complete special projects as requested.
Required Qualifications
Bachelor's Degree in a related field
3 or more years of experience analyzing data
2 or more years of experience leading a team
Experience with relational databases including writing SQL queries (Oracle, SQL Server)
Ability to demonstrate good judgement, integrity, and trust in frequently handling confidential information
Systems aptitude and Microsoft Office skills; presentation skills
Ability to effectively communicate with and make recommendations to all levels of management/across functional areas
Certified Information Systems Auditor (CISA) or currently pursuing
At Wegmans, we've long believed we can achieve our goals only if we first fulfill the needs of our people. Putting our people first and offering competitive pay and a variety of benefits & perks is just the start of what it means to work at Wegmans.
Whether through premium pay for working on Sundays or holidays, offering industry-leading health care coverage and wellness programs to support physical, financial, and emotional well-being, or paid time off (PTO) to help you balance work and life, we've got something for everyone.
And because we care about the wellbeing and success of every person, we recognize each person has their own unique scheduling needs. We're proud to offer flexibility in scheduling so our employees can prioritize what is most important to them. Our large, high-volume stores and 24x7 operations allow for personalized schedules that balance an employee's individual needs with the needs of our business and each department.
Comprehensive benefits*
Paid time off (PTO) to help you balance your personal and work life
Higher premium pay rates for working Sundays or on a recognized holiday
Health care benefits that provide a high level of coverage at a low cost to you
Retirement plan with both a profit-sharing and 401(k) match
A generous scholarship program to help employees meet their educational goals
LiveWell Employee & Family program to support your emotional, work-life and financial wellness
Exclusive discounts on electronics, entertainment, gym memberships, travel and more!
And more!
***Certain eligibility requirements must be satisfied and offerings may differ based upon area or the company and/or position.
For 25 years in a row, our employees have put us on the FORTUNE magazine's list of the 100 Best Companies to Work For®. Discover what it means to work for a family-owned, mission-driven, values-based company that believes in caring, respect, empowerment, high standards and making a difference in the community. Because with a family-like atmosphere of shared support, leaders who have your best interest at heart and growth as part of everything we do, Wegmans is the place for you to do what you love—and love what you do.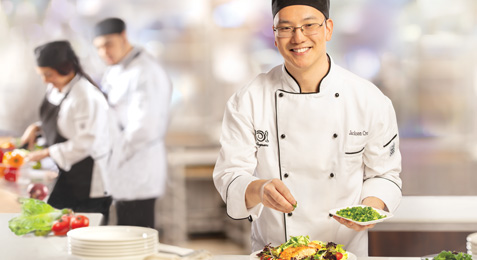 You do not have any recently viewed jobs
You do not have any saved jobs