IT Senior Security Engineer - Detect and Respond
Rochester, NY
Schedule

Full time

Availability

Morning, Afternoon, Evening.

Age Requirement

Must be 18 years or older

Location

Rochester, NY

Address

1500 Brooks Ave

Pay

$100,000 - $140,000 / year

Job Posting

11/21/2022

Job Posting End

12/21/2022

Job ID

R0152165
This position is primarily remote/work from home.
As an IT Senior Security Engineer at Wegmans, you will provide technical support and administration to Information Security to protect company information and assets. You'll will evaluate, recommend and implement proven state of the art security solutions to enhance Wegmans core security capabilities in the areas of security infrastructure, access management, networking, databases, and servers. 
What will I do?
Advise management of significant emerging threats, and recommend tactical steps to counteract these threats
Develop and maintain the Information Security incident response process, including all required supporting materials; initiate and execute the incident response process to resolve information security incidents
Coach, delegate tasks and set goals Information Security Administrators and Analysts in duties that include documentation, analysis, and incident resolution
Handle sensitive/confidential security issues in a professional manner; including HR reports/access, user access reviews/reporting, management requested investigations, root login reviews, termination requests, security incidents
Perform complex forensic techniques and procedures on critical systems
Evaluate, recommend, and implement proven state of the art security solutions to enhance Wegmans core security capabilities in the areas of security infrastructure, access management, networking, databases, servers, etc.
Implement cost-effective, timely security safeguards and solutions
Perform tasks associated with vulnerability management, security advisory, patch management, intrusion prevention, incident management, and problem analysis
Document and communicate effectively with both technical and management level audiences
Coordinate and implement security systems projects; manage multiple projects and deadlines
Implement or coordinate remediation required by audits, and document exceptions as necessary
Research threats and vulnerabilities and, where appropriate, take action to mitigate threats and remediate vulnerabilities
Review, assess, and mitigate findings from penetration tests and vulnerability assessments on information systems and infrastructure
Recommend, schedule and/or apply fixes, security patches and any other measures required in the event of a security breach
Document SLA's and procedures for all new information security solution implementations, and work with Security Operations Center personnel to transition day to day operation and support
Champion the use of information security best practices
Promote security awareness to all levels of users and management
Participate in an on-call rotation (24/7)
Required Qualifications:
3 or more years of professional experience leading Information Security risk assessments for major processes, systems and projects, preferably at a leadership level
Experience with SIEM Content Engineering, MITRE ATT&CK threat modeling, and docker containerization
Experience, awareness, and in-depth knowledge of method and motivations adopted by hackers to attack IT platforms and automated information systems; Incident handling/response
Experience with network infrastructure, including routers, switches, application layer firewalls, and associated network protocols and concepts
Advanced knowledge of forensic imagining techniques, tools, and procedures
Proficient in scripting languages and infrastructure as code (including DevOps, Ansible, Puppet, PowerShell Desired State Configuration)
Proficient in Microsoft Operating Systems, UNIX, Visual Basic, MS SQL Database and Active Directory Services Interface (ADSI)
Excellent critical, analytical and creative thinking skills
Verbal and written communication skills
Preferred Qualifications:
Bachelor's degree in a related field
Certified Information Systems Security Professional (CISSP), Cisco Certified Network Professional (CCNP), Cisco Certified Network Associate (CCNA), and/or Microsoft Certified Solutions Expert (MCSE)
At Wegmans, we believe that if we take care of our people, they'll take care of our customers. That's why, as part of the Wegmans family, you'll have a package of benefits that covers your health, well-being, family and future.
Flexibility in scheduling—work-life balance
Employee discounts
Premium pay on Sundays and holidays
Comprehensive benefits*
Quality affordable healthcare coverage
Vision coverage
Dental coverage (Available to Full-time only)
Pre-tax spending accounts
Life insurance
Paid time off
Employee assistance program
Employee wellness programs
401(k) retirement savings plan
Wegmans retirement profit sharing plan
Scholarship Program
*Certain eligibility requirements must be satisfied
For 25 years in a row, our employees have put us on the FORTUNE magazine's list of the 100 Best Companies to Work For®. Discover what it means to work for a family owned, mission-driven, values-based company that believes in caring, respect, empowerment, high standards and making a difference in the community. Because with a family-like atmosphere of shared support, leaders who have your best interest at heart and growth as part of everything we do, Wegmans is the place for you to do what you love—and love what you do.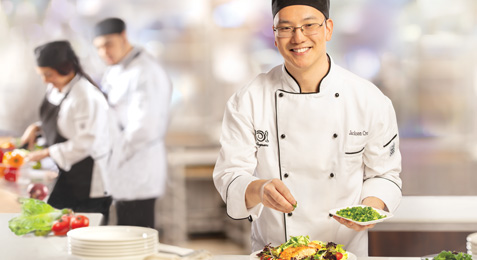 You do not have any recently viewed jobs
You do not have any saved jobs