Data Engineer
Rochester, NY
Schedule: Full time
Availability: Morning, Afternoon, Evening.
Age Requirement: Must be 18 years or older
Location: Rochester, NY
Address: 1500 Brooks Ave
Job Posting: 10/07/2021
Job Posting End: 11/08/2021
Job ID: R0105322
As a Data Engineer within the Wegmans IT Department you will be responsible for building and operationalizing the minimally inclusive data necessary for enterprise data and analytics initiatives following industry standard practices and tools. The bulk of the Data Engineer's work would be in construction, management and optimization of data pipelines and moving these data pipelines effectively into production for key data and analytics consumers like business/data analysts, data scientists or any persona that needs curated data across the enterprise.
What will I do?
Source, prep, connect and/or collect data in pipelines; automate the release of pipelines in and leverage continuous improvement to refine the deployment process
Model data in a variety of storage types and determine if it's fit for purpose and aligns with the enterprise data platform
Work with data science teams and business analysts in refining their requirements for various data, analytics initiatives and data consumption
Source, evaluate and create enterprise-wide data assets that will improve existing business processes and support potential new business opportunities
Evaluate and understand how data is secured and exposed using techniques appropriate for the classification of the data
Required Qualifications:
Bachelor's Degree in a related field
Experience with data analysis and preparation, including very large data sets and unstructured data
Experience with technical design and programming experience in 1+ languages
Knowledge of Data Warehousing, Data Lake, Data Processing, Data Modeling, and Business Intelligence concepts
Preferred Qualifications:
Master's degree in a related field
Experience with Data Pipelines and Real-Time Data Processing
Experience using public cloud storage platforms
At Wegmans, we believe that if we take care of our people, they'll take care of our customers. That's why, as part of the Wegmans family, you'll have a package of benefits that covers your health, well-being, family and future.
Flexibility in scheduling—work-life balance
Employee discounts
Premium pay on Sundays and holidays
Comprehensive benefits*
Quality affordable healthcare coverage
Vision coverage
Dental coverage (Available to Full-time only)
Pre-tax spending accounts
Life insurance
Paid time off
Employee assistance program
Employee wellness programs
401(k) retirement savings plan
Wegmans retirement profit sharing plan
Scholarship Program
*Certain eligibility requirements must be satisfied
For 24 years in a row, our employees have put us on the FORTUNE magazine's list of the 100 Best Companies to Work For®. Discover what it means to work for a family owned, mission-driven, values-based company that believes in caring, respect, empowerment, high standards and making a difference in the community. Because with a family-like atmosphere of shared support, leaders who have your best interest at heart and growth as part of everything we do, Wegmans is the place for you to do what you love—and love what you do.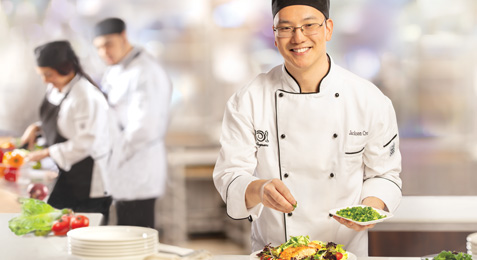 You do not have any recently viewed jobs
You do not have any saved jobs