Why bring your skills and talents in the culinary arts to a grocery store? Because Wegmans is much more than an average grocery chain. As part of our culinary team, you'd be working for a company that's been on the prestigious "Fortune 100 Best Companies to Work For®" list for 20 years in a row.
You'll also work side-by-side with experienced chefs making a wide variety of delicious, fresh and award-winning dishes that meet the needs of busy families and hungry people in the communities we serve. From our prepared food sections to one of our concept restaurants, you'll make the food that makes a difference in our customers' lives.
Learning and growing at Wegmans means that you're given the opportunity to improve every day. No matter what part of the company you work in, it is important to us that everyone is engaged in our business, supports what we do, and continues to learn and grow.
– Colleen Wegman
Videos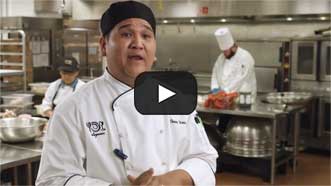 Day in the Life of a Wegmans Chef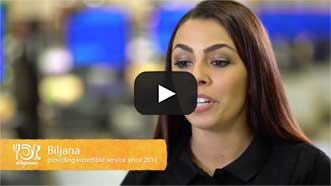 Career Opportunities at Wegmans
Career Path
Prep Cook (Cook III)
Objectives: Entry level position where you will learn from the best culinarians to help you in your start to a long culinary career. Must possess basic food safety knowledge and knife skills and a passion for cooking is a must!
Est. time in position: 2 or more years
Line Cook (Cook II)
Objectives: Build upon your learnings from a prep cook or jump into a role where you will enhance your organization and culinary skills to maximize production efficiency. You will be trained in various stations within the kitchen and learn the IT tools to effectively manage the business.
Est. time in position: 2 or more years
Culinary Management Trainee
Objectives: Learn how to impact the 5 Measures and about culinary standards while mastering core recipes and cooking techniques with the aim of becoming a Sous Chef upon successful completion of the program.
Est. time in position: 2 years
Lead Cook (Cook I)
Objectives: Learn how to manage & develop others, build customer relationships, demonstrate proficiency in all aspects of the role, manage production of kitchen; recipes, food safety, policies and procedures & financials.
Est. time in position: 1 or more years
Sous Chef
Objectives: Manage kitchen operations, drive knowledge based service, train and develop culinary staff.
Est. time in position: Multiple experiences req. – 1 or more years
Store Chef
Objectives: Learn how to partner across the store to provide customers with delicious, innovative meal solutions, control product usage between prep areas, develop culinary employees and bring the What We Do and Who We Are to life.
Est. time in position: 2 or more years
Executive Chef
Objectives: Focus on being the primary food resource and setting the culinary standard for the store, partner with Perishable departments to develop food knowledge in all employees and customers.
Est. time in position: 3 or more years

Benefits
Health Coverage

Two generous health plans: A traditional PPO plan with low deductibles or an HSP with a lower weekly cost

401(k)

401(k) plans that match 50% of your contribution up to 6% of your pay.

Dental

Dental coverage that covers cleanings, fillings, crowns and braces.

Vacation

Paid vacation time along with six paid holidays a year

Family Savings

Dependent care savings accounts
Job Description
Job Posting: 04/25/2019
Job ID R0031318
Location: Burlington, MA
Address: 53 Third Avenue
Age Requirement: Must be 18 years or older
Days Hours Req: Applying to this requisition allows you to be considered for multiple opportunities. Please provide as much availability that works with your schedule.
Schedule: Part time
At Wegmans, our commitment to customers is simple:  Every Day You Get our Best.  Customers tell us they choose Wegmans for the helpful people in our stores, help with delicious meals, and the freshest ingredients possible.  If you love working with others in a fast-paced & dynamic environment, are passionate about food and trying new things, and would love to make a difference in a customer's shopping experience, Wegmans is the place for you!
What will I do?
Exhibit enthusiasm in the exceptional products we offer
Demonstrate your passion for food and share that knowledge with customers
Make a difference in a customer's day and the reason they return to our store
Become part of an energetic team where you can Do What You Love every day
Apply Now
Match Jobs to your profile
Proud of our #3 Ranking
Wegmans has been on the list of FORTUNE 100 Best Companies to Work For ® since 1998 and is one of the few companies that has made the list for the last 22 consecutive years since its beginning. FORTUNE and 100 Best Companies to Work For are registered trademarks of Time Inc. and are used under License. FORTUNE and Time Inc. are not affiliated with, and do not endorse products or services of, Wegmans.
Learn More