Sanitation Worker $500 Sign On Bonus
Ashland, VA
Schedule

Full time

Availability

Applying To This Requisition Allows You To Be Considered For Multiple Opportunities. Please Provide As Much Availability That Works With Your Schedule.

Age Requirement

Must be 18 years or older

Location

Ashland, VA

Address

9300 Sliding Hill Road

Pay

$18 - $18.75 / hour

Job Posting

05/03/2023

Job Posting End

07/01/2023

Job ID

R0169019
EARN A BONUS UP TO $500! Hiring immediately!
Join our Warehouse team at the new Ashland, VA Distribution Center, located off I-95 approximately 15 miles north of Richmond. Opening Summer 2023!  
Now Hiring! Full-time opportunities with paid training!
As a Facilities Sanitation Team Member, you will help to keep the entire operation running smoothly. Working alongside the Operations Teams, this role provides incredible service to each department by quickly and efficiently responding to calls regarding spills, breaks, or other accidents, as well as maintaining the general upkeep and safety of the facility.
What will I do?
Keep the facility in pristine condition, and answer questions and communicate potential dangers to management
Promptly respond to all maintenance calls by attending to spills, breaks or other accidents as well as various maintenance tasks including changing light bulbs, unclogging drains, etc.
Work independently to prioritize and complete all assigned tasks efficiently,  including keeping warehouse floor clear of all wood, plastic, cardboard, and other debris, clean and restock restrooms, sweep floors, empty trash receptacles, clean windows, as well as other jobs
Safely operate ride on and walk behind floor scrubbers, perform basic preventative maintenance of cleaning equipment
Operate cardboard and plastic baler and compactors, load pallets and recyclables onto trailers
Keep an organized, well-stocked and simplified supply room and maintenance stations, ensure supplies are available to quickly answer maintenance calls
Properly use equipment, handle products, keep accurate logs, follow sanitation practices in accordance with food and human safety guidelines, Simplification 5S procedures, comply with Wegmans policies, federal and state laws
Required Qualifications
 Customer service experience
Preferred Qualifications
Custodial/janitorial experience
Experience using forklift and pallet jacks
At Wegmans, we've long believed we can achieve our goals only if we first fulfill the needs of our people. Putting our people first and offering competitive pay and a variety of benefits & perks is just the start of what it means to work at Wegmans.
Whether through premium pay for working on Sundays or holidays, offering industry-leading health care coverage and wellness programs to support physical, financial, and emotional well-being, or paid time off (PTO) to help you balance work and life, we've got something for everyone.
And because we care about the wellbeing and success of every person, we recognize each person has their own unique scheduling needs. We're proud to offer flexibility in scheduling so our employees can prioritize what is most important to them. Our large, high-volume stores and 24x7 operations allow for personalized schedules that balance an employee's individual needs with the needs of our business and each department.
Comprehensive benefits*
Paid time off (PTO) to help you balance your personal and work life
Higher premium pay rates for working Sundays or on a recognized holiday
Health care benefits that provide a high level of coverage at a low cost to you
Retirement plan with both a profit-sharing and 401(k) match
A generous scholarship program to help employees meet their educational goals
LiveWell Employee & Family program to support your emotional, work-life and financial wellness
Exclusive discounts on electronics, entertainment, gym memberships, travel and more!
And more!
***Certain eligibility requirements must be satisfied and offerings may differ based upon area or the company and/or position.
For 25 years in a row, our employees have put us on the FORTUNE magazine's list of the 100 Best Companies to Work For®. Discover what it means to work for a family-owned, mission-driven, values-based company that believes in caring, respect, empowerment, high standards and making a difference in the community. Because with a family-like atmosphere of shared support, leaders who have your best interest at heart and growth as part of everything we do, Wegmans is the place for you to do what you love—and love what you do.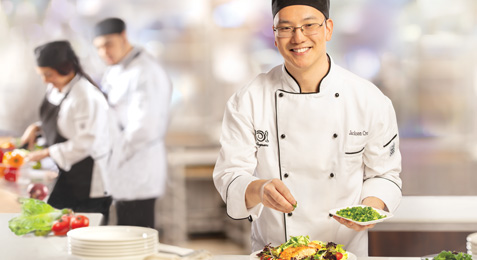 You do not have any recently viewed jobs
You do not have any saved jobs