Cultivate Your Culinary Career at Blue Dalia
At Wegmans, excellence is at the core of who we are. Whether you're a cashier brightening up a customer's day with a smile, or a part of our culinary team delivering delicious meals to our guests, all of our employees are an important piece to our puzzle and our Blue Dalia team members are no exception.
Located in our Natick, Massachusetts store, Blue Dalia is our new restaurant that serves tasty Mexican cuisine – from fresh salsa and guacamole, to craft cocktails and traditional entrees inspired by Mexico City.
Head Chef Geno Bahena, a native of Mexico, was first impressed by the produce, meats and more that Wegmans has to offer and decided to join the Blue Dalia team, crafting meals reminiscent of his childhood. Within his time here, he has enjoyed continuing to grow his skill every day.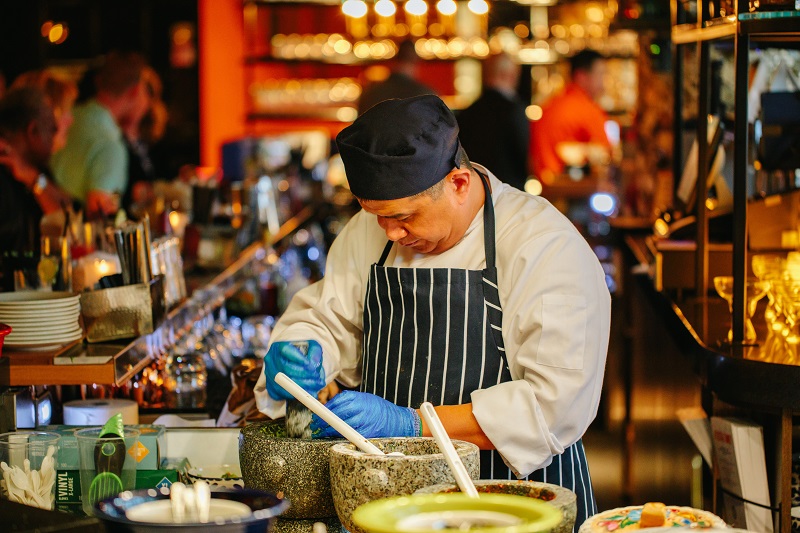 "Becoming a better cook is a lifelong journey," he says. "From the first time we fry eggs to the day we can pull off pitch-perfect holiday feasts and beyond, we are always learning to hone techniques, tweak flavors and textures, introduce novel ingredients, and rise to the next level of kitchen domination."
Darren Eng, the Beverage Manager on the team, is equally passionate about experimenting with new flavors when making cocktails for customers. He enjoys the freedom that comes with being able to source ingredients directly from the diverse aisles of Wegmans.
"Having the grocery store really makes it easy to find inspiration walking through the aisles," he explains. This access to fresh ingredients matched with a supportive and equally creative team has proven to be a recipe for success with Darren and he notes, "it is incredible to be a part of something new; proving to the world that Wegmans is not just a grocery store and that we are capable of so much more."
Are you looking for a unique opportunity working alongside team members like Geno and Darren, within a store that has been named one of "Fortune's Top Companies to Work For" for more than 20 years in a row? Cultivate an exciting culinary career as a part of the Blue Dalia team in Natick today!