Cooking Up Your Career with Wegmans
When he visited his local Wegmans for the first time for a school tour, Denny Siswanto admits he hadn't previously heard of us, but he was intrigued by all the smiling faces. At the end of the tour, he had the chance to speak with Executive Chef Trent O'Drain and was hired as a prep cook. Nearly a decade later, Denny is living his dream as a Corporate Executive Chef with Wegmans.
"If I could sum up what led me to join the culinary team, it's a combination of work-life balance, opportunity to grow, awesome training and development, great benefits, and the wealth of culinary knowledge and experts that I personally learn from throughout the company."
Read on to find out what a typical day is like for a Corporate Executive Chef, what Denny loves most about working at Wegmans, and what advice he would give to someone who is considering a career with us.
What is your typical day like?
It's never the same, every day is a different day. Typically, I start my day with walking through the department and saying hello to everyone. Then, I go on to check email and financials, followed by the 10 AM huddle with the team. Then, I'm running the business for lunch and dinner service.
What do you love most about working with Wegmans?
The people, their passion for food, their culinary talent, and the resources that we have here.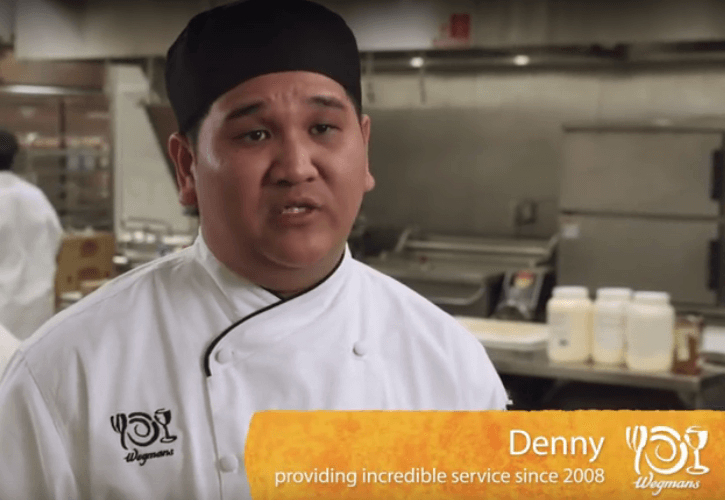 What are some opportunities for growth within the company?
The sky is really the limit here at Wegmans. We have the tools and resources for folks who want to continue to learn and grow. It's up to me and you to decide where we want to go.
What are some goals you have for yourself in your career at Wegmans?
My long-term goal is to be regional chef or a store manager and maybe one day I could be a VP for the company.
What is one of your favorite memories of working with Wegmans?
There are so many. However, one of my favorite memories is when I did the tour and applied for the job at Wegmans. It was one of the best decisions that I've ever made.
Do you have to overcome challenges in your career with Wegmans?
Without challenges, we will not learn and grow. Of course, there are plenty of challenges for me. However, the amount of resources and support that you get is really overwhelming.
Do you have any advice you would give to someone who's considering a career with Wegmans?
I would say don't think twice and just do it. You might have hesitation from the point of view of an outsider, but Wegmans is a way of life! We believe in high standards, caring, empowerment, respect, and making a difference in the community that we serve. We live by these standards!
Are you considering a one-of-a-kind career opportunity? Love what you do with Wegmans and join our culinary team today!