A Company That Cares: Wegmans Gives Back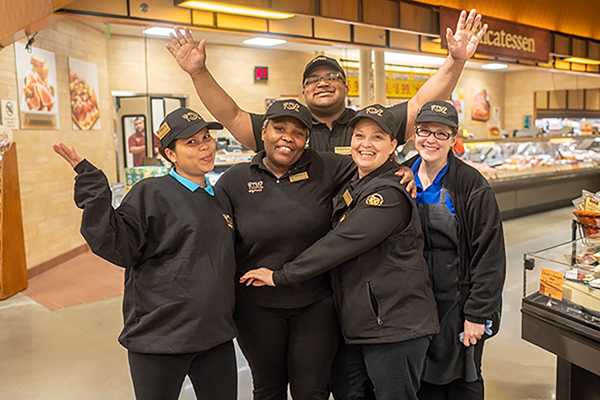 Since our founding more than 100 years ago, Wegmans has been committed to our communities. As a family-owned business, a sense of caring is at the core of who we are, and it stretches far beyond the aisles of our grocery stores. From feeding the hungry, to supporting youth groups, to improving the environment through our sustainability efforts and so much more, we are dedicated to making a difference within our world and each of our employees plays a part in helping us to do so.
Feeding the Hungry
Whether volunteering at food banks, donating goods, or promoting initiatives like our Fill the Bus and Check Out Hunger programs, the Wegmans team is always finding ways to give back to those in need. And we're making a big impact. In fact, last year we donated more than 14.5 million pounds of food to the hungry. This past winter alone, Check Out Hunger helped us reach more than $1.2 million in donations for local food banks in Massachusetts, Buffalo, the Southern Tier of New York and parts of Pennsylvania. We've collected more than $40 million in donations since we started the program in 1993!
"Our annual Check Out Hunger campaigns are proof that communities thrive when we all work together," Wegmans Community Relations Manager Linda Lovejoy said. "Every dollar counts in the fight against hunger, and we can't thank our customers and employees enough for helping us reduce the hunger that exists right in our own neighborhoods and communities."
You can learn more about the initiative here.
Helping create healthier better neighborhoods
Feeding The Hungry
14.5 million pounds of food donated to local food banks, pantries and soup kitchens in 2018.
Since 1993, Wegmans has raised more than $40 million for hunger relief.
$3.29 million raised during scanning campaigns at Wegmans in 2018.
Enriching Store Neighborhoods
Wegmans Employee Scholarship Program gave out more than $5 million for the 2019-2020 school year to give college tuition assistance to 1,755 new recipients.
Wegmans employees have been awarded $120 million in scholarships since 1984.
We make a difference in every community we serve.
Encouraging Healthy Eating and Activity
Helping Young People Succeed
More than 30,000 requests for donations in 2018.
Empowering Our Youth
With programs like our annual scholarship, our part-time and full-time employees are awarded with funds to help them further their education every year. This year, we had 1,755 award recipients, and we've given more than $120 million to employees since we started the program in 1984.
"Our scholarship program is a way for us to help our people achieve their goals and pursue their dreams, whether that means building a career at Wegmans or elsewhere," President and CEO Colleen Wegman said. "It's also a way for us to invest in the communities where we have stores."
We also give back through youth sports initiatives that encourage wellness from a young age and through sponsorships for local programs and events, like walks for a cause and funding for children's museums. We understand that young people are our future and through our efforts, we help empower them to be their best selves. You can learn more about our commitment to future generations here.
Cleaning Our Communities Through Sustainability
In the same way that we promote healthy people and communities, Wegmans understands the importance of a healthy environment. Through our sustainability efforts, we're doing our part to create a cleaner world around us. We recently announced our plans to reduce the use of plastic items, like packaging materials and straws, by 2 million pounds in 2019. Our ultimate goal is a reduction of 10 million pounds by 2024.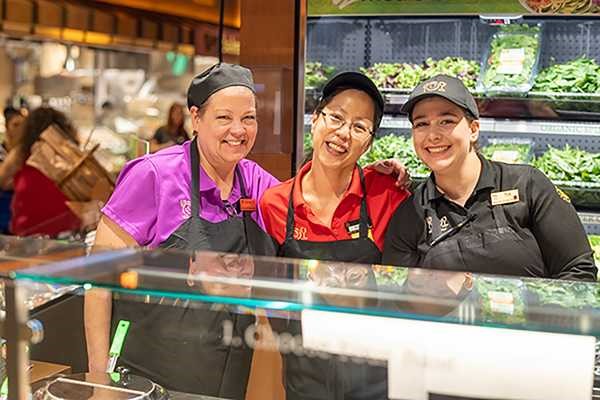 Through changes like swapping out single-use plastic straws and drink stir sticks to alternatives within our corporate offices, we're making small changes that will have a big impact. And through our Zero Waste program, we've partnered with Rubicon Global, the leader in sustainable, cloud-based waste and recycling solutions to reduce waste within our stores.
"We're taking measurable steps to improve and implement programs that increase our recycling rate, minimize waste, and help make a difference in every community we serve," Packaging and Sustainability Manager Jason Wadsworth said. You can find out more about our sustainability efforts here.
Are you looking to make a difference in your career by joining a company that cares? As a part of the Wegmans family, you can truly love what you do while also serving the communities around you. The future is in your hands. Explore our openings and join us today!