Wegmans Employees Anticipate the Grand Opening of Our New Harrison, NY Store
We're easing closer to the grand opening of our new Harrison location, which will be located just off Interstate 287 at 106 Corporate Park Drive. The new store will be an impressive 121,000 square feet and will feature an awesome array of prepared food options and a Wegmans favorite, Burger Bar, with a classic diner-inspired menu.
As we prepare for the opening, we are assembling a staff of 500 passionate team members who are ready and excited to provide the awesome Wegmans service our customers know and love. We spoke with some of these employees about their Wegmans journeys and what they most look forward to when it comes to the new store.
_______________________________________________________________________________________________________
Erin: Employee Advocate in the Human Resources Department and Wegmans team member for one year and five months
What brought you to Wegmans?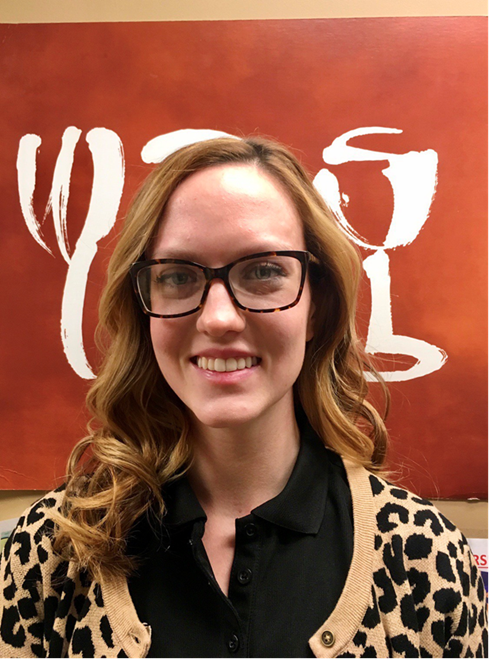 When I heard that Wegmans was coming into the Harrison area, I knew that I had to join. For college, I went to school right outside of Rochester where Wegmans was founded. I was amazed at how friendly the employees were and how they made you feel like family even if it was your first time in the store. I knew that it was somewhere I would love to work.
Why are you excited about this new store?
Being from Downstate New York I know there is nothing like Wegmans in the area. I am excited to be able to introduce new people to such a wonderful company and to hire new employees to our growing family.
Why do you love working at Wegmans?
I love working at Wegmans because every day there is something new going on. Whether it's a new product being demoed, or we are getting ready for an upcoming holiday, it's exciting seeing our employees being passionate about what they do. I have also been able to see people come in for part-time customer service and find their passion, here at Wegmans, and turn it into their career.
_______________________________________________________________________________________________________
Emily: Perishable Area Manager and Wegmans team member for 13 years
What led you to join the team? Why have you stayed for as long as you have?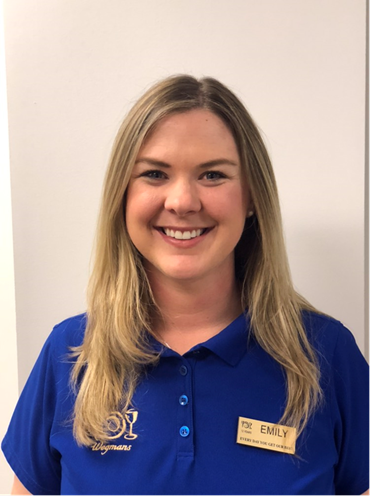 Wegmans has been my first and only job. I started in high school as a part-time cashier. After three years in the summer internship program, I realized this is what I wanted to do with my career. I get to work with people and food on a daily basis and I love both of those things! I have stayed with the company because I genuinely love coming to work every day. There is always something new to learn or a new experience, and I love it!
What do you love most about working at Wegmans?
I love the people I work with. No matter what store or division, the people are what make me love my job! I love that there is so much opportunity to learn and grow. No matter what you are passionate about, we have something for everyone here, and I think that is why it is such a great place to work!
What is your favorite Wegmans memory?
That is a tough question. I have so many! My favorite Wegmans memory would have to be on grand opening Sunday of the Montvale store. We were on stage 5 minutes before the doors opened, getting ready to do the Wegmans cheer, looking out at all of the newest members of the Wegmans family who were so genuinely excited to be a part of the team and change the shopping experience for our new customers. Being a part of the Montvale opening and seeing it all the way through to grand opening, was the best experience! I am fortunate enough to do it all over again for Harrison.
_______________________________________________________________________________________________________
Joshua: Executive Chef and Wegmans team member for three years
What are some goals you have for yourself in your career at Wegmans?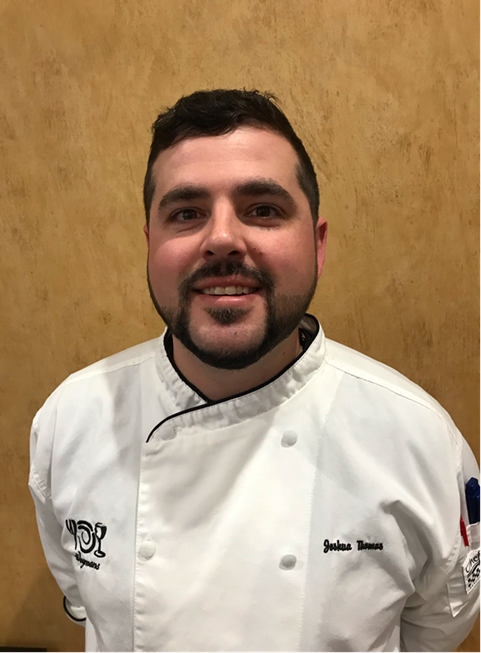 My short-term career goal at Wegmans is to offer new opportunities to many new employees at the Harrison store. I am looking forward to creating a fantastic culinary team where I am able to teach new employees daily. My long-term career goal is to become a Regional Chef with the Wegmans company.
What is your typical day like?
Every day at Wegmans is exciting! As an Executive Chef, my main focus daily is to take care of my employees and team. I strive to ensure that food and human safety are my top priorities. Every day I get to work hand-in-hand with many great people to achieve our goals. It is an honor to share and learn new culinary techniques with my team.
What do you love most about working with Wegmans?
What I love most about Wegmans are the people I get to work with. I get to work with amazing, talented folks every day. I am thankful to work for such a great, family-oriented company that truly cares about their employees.
Are you looking for a rewarding, new opportunity working alongside enthusiastic employees who want to see you grow and succeed? Help us kick off our Harrison store grand opening the right way, and see for yourself why we have been named one of Fortune's "100 Best Companies to Work For" for 22 years in a row. Love what you do at Wegmans, and explore our openings today!